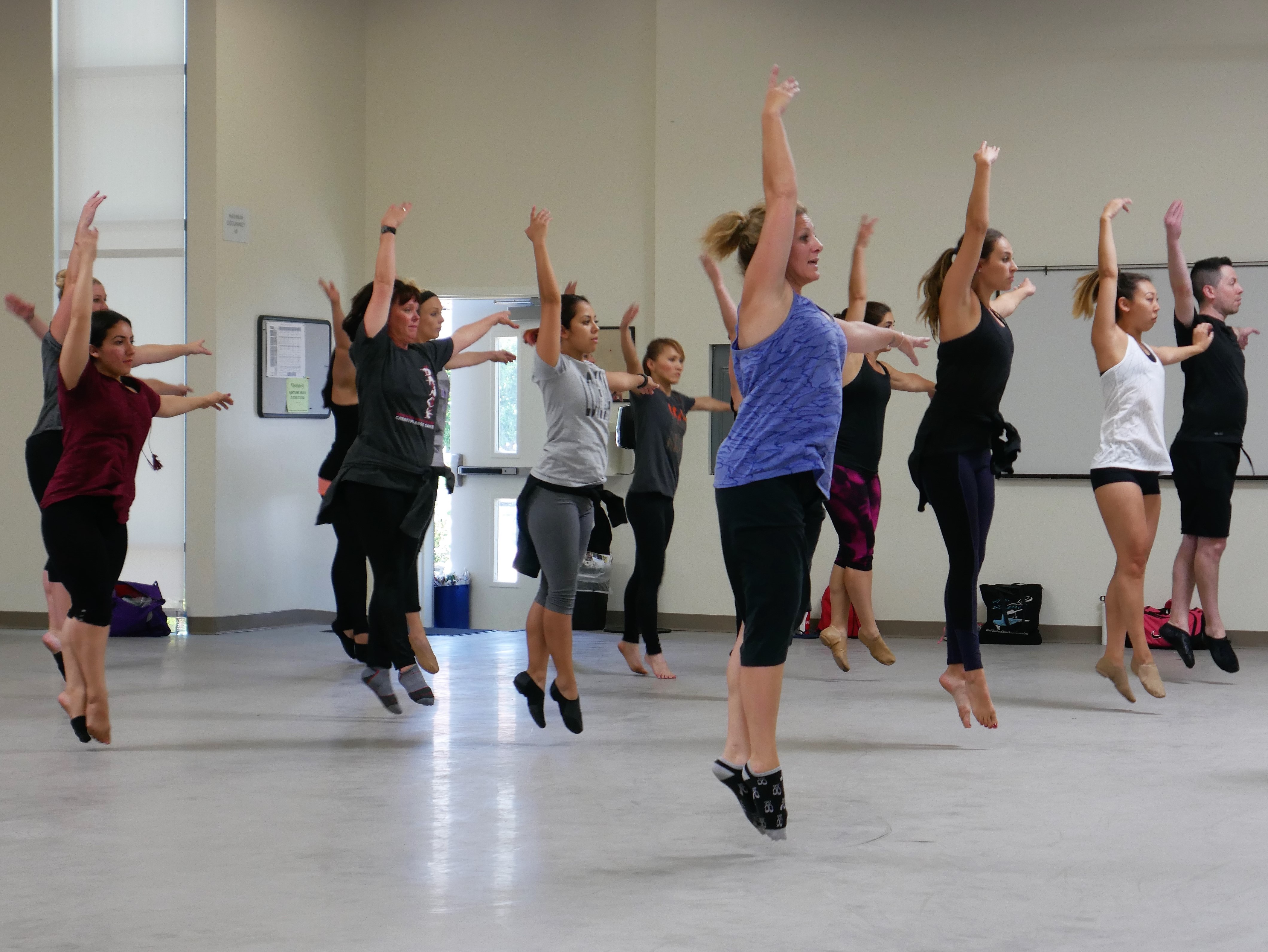 Opening Day – Monday, July 10, 2023
11:00 am – 1:00 pm Registration
1:00 pm – 2:30 pm Master Class – Janell Burgess
2:30 pm – 2:45 pm Light snacks provided
2:45 pm – 4:15 pm Class with AIR Jenny Backhaus of Backhausdance
4:15 pm – 5:00 pm Opening Session – Meet and Greet
5:30 pm – 6:30 pm Dinner in the Dorms or on you own
2023 Class Schedule: Tuesday – Saturday
Tuesday
July 11

Wednesday
July 12

Thursday
July 13

Friday
July 14

Warm-ups
8:30-9:00am



Warm-ups

Warm-ups

Warm-ups

Warm-ups

Period 1
9:15-10:30am


Modern
Backhausdance
(Jenny Backhaus)
Modern
Backhausdance
(Jenny Backhaus)
Modern
Backhausdance
(Jenny Backhaus)
Modern
Backhausdance
(Jenny Backhaus)

Period 1
9:15-10:30am


Hip Hop
Zach
Hip Hop
Zach
Progressions
Eddie

Progressions
Eddie

Period 2
10:45am-12:00pm


Composition
Backhausdance
(Jenny Backhaus)
Composition
Backhausdance
(Jenny Backhaus)

Repertory
Backhausdance
(Jenny Backhaus)

Repertory
Backhausdance
(Jenny Backhaus)

Period 2
10:45am-12:00pm


Contemporary
Zach
Contemporary
Zach

Musical Theatre
Oscar

Musical Theatre
Oscar

Period 2
10:45am-12:00pm


Ballet Jam
Oscar
Ballet
Oscar
Salsa
Pepe
Salsa
Pepe

Lunch Break
12:00-1:30pm

Lunch
Lunch
Lunch
Lunch

Period 3
1:30-2:45pm


Tap
Bruce

Tap
Bruce
Tap
Summer
Tap
Summer

Period 3
1:30-2:45pm


Dance Pep
Kelly
Dance Pep
Kelly
Dance & Film
Eric
Dance & Film
Eric

Period 3
1:30-2:45pm

Beg/ Int Combos
Cyndi
Pilates
Christine
Beg Hip-Hop
Brenda

Period 4
3:00-4:15pm

Pilates
Christine
Choreography Unit
Sara
Yoga
Yoga

Period 4
3:00-4:15pm

Jazz
Donna
Jazz
Donna
Contemporary
Leann
Contemporary
Leann

Period 4
3:00-4:15pm

Ballet Folklorico
Jesenia
Flamenco
Jesenia

Sharing Insights
4:30-5:00pm

D & M 2024 Planning
w/Gina
Closing Share Session

Evening Activities

Game Night
Sandhu Hall
AIR Concert 7pm
Memorial Hall
Banquet 7pm
Joyce Jackson's
Class Descriptions
Modern / Contemporary / Composition / Repertory – Jenny Backhaus of Backhausdance
Classes will contain a modern/contemporary warmup, center and across-the-floor technique and choreography. Classes will provide a variety of styles and difficulty levels to meet the needs of various dance programs. Instructor will share current repertory pieces and composition techniques.
Beginning/Intermediate Combos To Go- Cyndi Hermann
In this class I will share combos from my beginning and intermediate level dance class. I will teach a beginning/intermediate jazz combo and an intermediate modern combo. Both combos have basic dance steps such as pas de bourree into pirouettes, fan kicks, pivots, chasse ball change, direction changes, sissones, attitude turns, floor work, and partner work. I will share how to modify these combos if students need more modifications or are ready for challenging variations.
Choreography Identity Unit To Go – Sara Dickman
This unit is designed to explore culture and identity expressed through dance. Through this interdisciplinary unit, students explore poetry writing, dancers throughout history, and explore ways to connect their own identities into their dances. You will receive access to all of this unit's materials including Google Slides, rubrics, and unit/lesson plans. This standards-based unit was designed for the middle school level, however, can easily be adapted to any level.
Contemporary / Hip Hop – Zachary Groenewold
Contemporary: Instruction of a variety of movement combinations in the contemporary dance genre with emphasis placed on rhythmic variance, quick changes of direction and weight shifts, style, performance, and a connection to the music. Technically, this class combines elements of jazz, modern, and ballet.
Hip Hop: Instruction of Hip Hop movement combinations. Will focus on varying styles of choreography within the urban/commercial styles of Hip Hop dance. Combinations will place emphasis on groove and dynamic musicality.
Tap / Taprican – Bruce
Tap: This class will be fast-paced where students will be challenged to quickly learn short combos in addition to being comfortable with basic tap improv.
Taprican: This class will combine traditional tap steps and rhythms with afro moves to afro beats. Students should be familiar with basic tap dance.
Ballet Folklorico – Jesenia Gardea
Mexican folklore has developed three different dance categories that trace their origins to colonial times and beyond. These traditional dance forms are called the "Danza", "Mestizo" and "Baile Regional". Danza is the purest form of the dance tradition and has very few outside influences. Mestizo maintains much of its original traditions, but has external influences. Bailes Regionales are dances that represent geographic regions of Mexico. Some dances can cross categories.
Picota is a type of music and dance from Tamaulipas, Mexico. The mountains of this region served as a refuge for indigenous groups fleeing from the colonizers. Although the word picota means "high stick" which was used as punishment and public shame for prisoners and offenders, the picota is danced to try to raise the spirits. As time passed, the inhabitants adopted this music and coupled it to the cheerful movements. The sound of the clarinet and drums signified to the people that a joyful celebration was about to begin. The clarinet clearly proves European impact. The movements of the dance include turns and jumps that hint at Scottish folk dance influence.
"Las Chiapanecas" means "The Women of Chiapas." The cheerful melody was inspired by the colorfully embroidered blouses and skirts worn by the women in this region. The song dates back to the 1930s and is one of the most recognizable Mexican folk songs to date. The dance has Mayan, Spanish and African influences. It is a perfect dance to introduce to beginner students because of its simple steps. Students can focus on learning how to coordinate their steps with skirt movements and spot turning. It can also be made more or less challenging by varying the formations used in choreography.
Pilates – Christine Ivy
Drawing upon a background in dance performance, dance education and over 16 years of teaching pilates, Christine enjoys working with a wide range of clientele including athletes, pre/post natal, elderly, obese, those with rehabilitation concerns, and those in the trauma community. With a B.A. in Dance, Dance Science from CSULB and a love for biomechanics and anatomy, she is well known by clients for a hawk-eyed ability to read and fine-tune the body as well as for using vivid imagery. Understanding that everybody is unique Christine looks to adapt sessions quickly to the needs of clients, regardless of age, level, or ability. She enjoys helping her clients reach goals with specifically tailored strategies. Christine understands that physical fitness is one piece of the puzzle towards creating a balanced life and she encourages clients to enjoy the process while embracing grace along the way.
Dance Pep – Kelly Hesp
Experience an NBA/NFL style master class! It is a high energy jazz funk style class with a focus on intricate movement and entertainment value. Class will start with Warm-up and across the floor progressions to focus on technique and confidence. Then, get performance ready and learn an inspired court-side routine perfect for the NBA/NFL half-time show!
Contemporary – Leann Alduenda
This class will explore contemporary dance by embracing technical refinement, body alignment and use of gravity while emphasizing syncopation, isolation, texture and movement clarity. The fusion of multiple dance genres will be investigated and personal exploration of movement, timing, and dynamic approach is greatly encouraged.
Ballet Jam / Ballet / Musical Theater – Oscar Gonzalez
Ballet Jam: How to utilize ballet to your advantage and get faster technical results with your students. This briskly paced class will focus on learning short ballet phrases that will maximize your students' understanding on how to connect ballet principles to competitive dance & other dance styles. I will teach how I break down and scaffold turns & jumps. Learn phrases with weight shifting, directional changes with a contemporary flare. Learn a fun way to teach petite allegro & short jump combinations to pop music. My favorite way of teaching jumps & beats.
Ballet: This course will demonstrate how fundamental ballet techniques can reinforce training concepts that align with skills necessary for all forms of dance, as well as physical education. Teachers taking this course will learn to: introduce basic concepts of ballet, develop an interest in the artistry and athleticism of ballet, and introduce academic language appropriate for the study of ballet. Teachers will learn to encourage in their students: a self-awareness necessary for classical posture and weight placement, coordination and control necessary to achieve whole body movements and sustain positions in ballet, the ability to achieve elevation, an understanding of spatial awareness, and how to create dynamic values in their performance.
Musical Theater: A fun energetic class learning choreography, staging, formations, male/female options. I will be teaching my own original choreography to 2-3 different musicals. Musicals are still TBD, but I will give variation in dance styles for each piece. They will all be fun, energetic, and filled with style. I will be incorporating level options so that it can be used for every level. (beg/int/adv) Be ready to have fun and dance your hearts out.
Beginning Hip-Hop – Brenda Fausto
Beginning Level Hip Hop Class that caters to ages 13-17 teens with little to no dance experience. Class will aim to spark interest in dance while providing a judgment free environment to grow amongst peers. Focus will also be on the introduction of music listening skills, body awareness, and understanding of hip hop fundamentals.
Salsa – Pepe Gonzalez
This class is made to enhance your Salsa and Mambo learning experience while keeping it fun and entertaining.
primeros pasos – Learn the right way to execute your basic steps salsa mambo combine with (mambo, pachanga, timba and rumba styles) 
jiros y vueltas – Best way to do a proper turn and spin nice and clean brake 
combine both styles – Basic and clasic combos to have fun in the dance floor